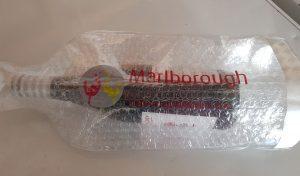 Do you know how to go about successfully packing wine for Travel?
Have you ever been at the airport and seen a suitcase coming down the conveyer belt with liquid – usually red leaking out?  I have and you just know it's not going to be an enjoyable experience for the poor person who thought they had done a great job of packing wine for travel home.  So here's a few tips of how you can avoid that unfortunate situation after doing some amazing wine tastings at the Marlborough vineyards.
Courier your Wine direct from the Winery
With the borders currently closed there is a real influx of kiwis travelling the country, enjoying the Marlborough wine region and buying bottles of wine after their fabulous wine tastings.  But at the end of the day you sometimes end up having brought so much you can't take it all in your luggage.  Most of the Marlborough vineyards are offering free NZ wide shipping when you buy a case of wine, and sometimes half a case.  This is fantastic if you find a brand you like and you enjoy several of their wine varietals. Before you know it you end up buying six or more bottles – shipping is free so no hassle, why not.
Courier your wine through your Wine Tour Guide
We have all had to pivot our businesses with the Covid 19 situation and this is one thing we have picked up to assist our New Zealand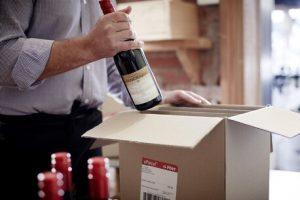 based clients.  Often we find that our clients enjoy their wine tasting but just want 1 or 2 bottles to purchase from each Marlborough vineyard.
At the end of the tour they have too much to pack into their luggage so we offer to courier this to your NZ address for a small fee to cover the cost.  It's a no hassle way to be able to continue enjoying the wine tastings you had in Marlborough with wine that is often only available from the Marlborough Cellar Door.
Packing Wine for travel in a Suitcase
So first of all a hard shell suitcase, rather than a fabric one has the most chance of keeping your precious wine in one piece when it is being hefted around by the hard working baggage handlers at the airport.  Make sure you pack your wine in the middle of the suitcase with plenty of soft clothing all around the bottles and that bottles are not touching each other.  There is a good chance that wine packed this way will survive the journey, but we have more tips below.  And check out this picture of a wine suitcase – what a great idea if you are a serious wine traveller!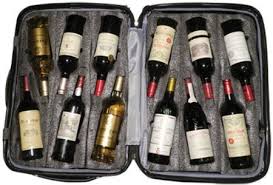 Wine Skins
Wine Skins were originally made from animal skins and used for storing and transporting liquids of all kinds.   This concept has been brought into the modern age with the invention of the bubble wrap wineskin which you will see available for sale at many of the wineries.  These are perfect for sealing your wine bottle in and with the protection of bubble wrap they are almost guaranteed to keep the bottle intact.  Even if the bottle were to break the wine will remain within the sealed bag and the contents of your luggage will be safe from any stray liquid.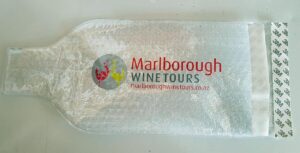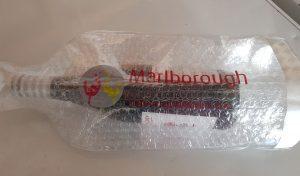 You can reuse the bag multiple times just by adding new tape when it loses its stick.  At Marlborough wine tours we thought these wine skins were a great little tool that we could use to add value for our clients, so we give you 1 complementary wine skin if you buy wine on your tour ( subject to availability).
Hopefully you now know how to successfully pack your wine for travel after visiting the Marlborough vineyards on tour with Marlborough Wine Tours.