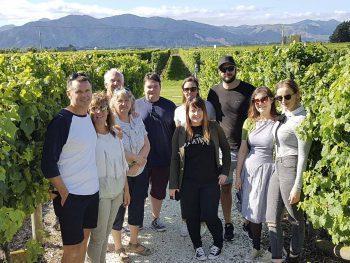 Exploring the Marlborough Wine Region and the top of the South Island
We hope you enjoy our guest blog post this month from Paul at GO Rentals
One of New Zealand's most famous wine growing regions is Marlborough. Located at the top of the South Island, it is known throughout the world for producing some of the best Sauvignon Blanc as well as a host of other varietals including Pinot Noir and Chardonnay.
The Marlborough wine region is made up three main subregions: Southern Valleys, Wairau Valley and Awatere Valley. Each of these subregions offers something different and that's what makes the wine from the Marlborough region so diverse and exciting.
A combination of cool yet high sunshine climate, low rainfall and free draining, and fertile soil produces uniquely vivid wines and for many visitors to New Zealand, Marlborough is one of the first places they add to their to-do list.
Exploring the Marlborough region and beyond
Whilst Marlborough itself is a wonderful destination to explore, we find that many travellers who join us on one of our unique and customised wine tours are touring around New Zealand and have added Marlborough to their itinerary. Whether they have just hopped across the Cook Strait on the Interislander ferry from Wellington or they are making their way north from popular South Island destinations like Christchurch and Queenstown, Marlborough is a great place to come and explore for a few days as part of your New Zealand adventure.
As we know so many of our amazing wine tour customers are on a New Zealand road trip adventure, we wanted to give you some great ideas for places to explore on the east coast at the top of the South Island between Picton and Christchurch. This is one of the best coastal drives in New Zealand and as well as offering up stunning views as you wind your way along the coastline, there are also some amazing places to stop off along the way.
First up, though, let's give you some ideas for things to do when you are in the Marlborough region.
Things to do in Marlborough
Whilst most people head to the Marlborough region to enjoy some wine tasting and to explore the magnificent vineyards, there is plenty more to the region than wine. Here are some of our favourite things to do:
Take a wine tour – we may as well start with the most popular activity – a wine tour! Here at Marlborough Wine Tours, we specialise in unique and customised wine tours of the Marlborough region. Whether you are looking to join a half day or a full day tour with other guests or you want to organise a private tour, we've got you covered. With options to start out in Blenheim or Picton, you have lots of options and our friendly guides have a passion for sharing their knowledge about the region, its history, and of course, its wine. We let our customers set the pace of the tour and if there is a specific cellar door you want to visit; we can accommodate special requests. Check out our full range of wine tours.
Explore the Queen Charlotte Track – whether you're into biking or walking, the Queen Charlotte Track is one of New Zealand's finest. The track is 71kms long so you will need a few days if you want to complete the full track. There are great stop off points along the way though and you can catch a ferry in and walk or bike specific sections of the track.
Omaka Aviation Heritage Centre – as museums go, this is one of the coolest in New Zealand. This world-class destination is for those with an appreciation of historic aircraft. The centre tells the story of aviation during two World Wars, the time when the most intense period od aviation development took place. There is plenty for everyone including the kids so add it to your list.
Lord of the Rings Filming Location – As everyone knows, the Lord of the Rings and The Hobbit trilogies were filmed right here in New Zealand and filming locations can be found all over the country. In Marlborough, head to the Pelorus River near Havelock where you will find the famous scene from The Hobbit: The Desolation of Smaug where the dramatic barrel escape scene was filmed.
Swim with dolphins – a big one on many people's bucket list is to swim with dolphins and in Marlborough, you can do just that. There are five types of dolphin that cruise the waters of the Marlborough Sounds including the dusky, bottlenose, common, orca, and the rare hector's dolphins. There are a number of tour operators who will take you out for this amazing experience, so you put a big tick next to that one on your visit to Marlborough.
Exploring the upper east coast of New Zealand's South Island
Whether you have travelled across from Wellington or you are making the drive up from Christchurch, the coastal road from Picton to Christchurch is a beauty. After allowing a few days to explore the Marlborough region, we're going to give you some of the hotspots between Picton and Christchurch.
Blenheim
As you head out on SH1, if you haven't already, we would recommend spending a couple of hours exploring Blenheim itself. Whilst Blenheim is the main town within the region, many people pass through on a search for the vineyards, however, it's well worth a stretch of the legs. If you're looking for a nice place for a walk, Pollard Park is the go-to. With 26ha of wooded parkland to explore, Pollard Park has some stunning rose gardens, a floral garden, a rhododendron dell, and a scented garden to explore. The Omaka Aviation Heritage Centre is also located in Blenheim along with the Marlborough Museum – an excellent way to spend a couple of hours.
Lake Grasmere
Heading south down SH1 and just half an hour out of Blenheim, you will come across Lake Grasmere. If you are driving through around lunchtime, it's a great place to stop off for a picnic and enjoy some stunning views. If you're a fishing enthusiast, there's even more to get excited about. Lake Grasmere is home to a good population of brown and rainbow trout and is a popular spot for locals and a beautiful lake to fish.
Kaikoura
The highlight of the drive between Picton and Christchurch is undoubtedly Kaikoura. Located almost equidistant from Picton and Christchurch, Kaikoura is one of the best places in the world to go whale watching. Kaikoura is the place for viewing all kinds of marine life and visitors have a 95% chance of spotting giant sperm whales, as well as dusky dolphins, orcas, humpback whales and everything in between. There are some great companies running whale watching tours and for something a bit special, try South Pacific Helicopters who will take to the skies for a really cool aerial view.
There's more to Kaikoura that just getting out on the water. The Lavendyl Lavender Farm is a truly spectacular place to go for a stroll and Fyffe House is the town's oldest surviving building and well worth an off-the-beaten track stroll.
Whilst whale and dolphin spotting are popular, the opportunity get in the water with the dolphins is one that many people can't pass up. Dolphin Encounters Tours offer you an amazing opportunity to get in the water with dolphins and it's a bucket list activity for many.
If you are looking for a great place to eat, follow the locals and head to Nins Bin – the best place in town to grab some crayfish which is caught locally. If crayfish is not your thing, the fresh catch of the day also includes green-lipped mussels and a variety of fish caught fresh and battered right in front of you – yum!
Kaikoura is packed full of things to do so if you are simply driving through, make sure you allow a couple of hours at least and pick your favourite activity. Better still, stay a couple of days and do it all! Other notable activities include the Albatross tour and the seal colony. Decisions, decisions!
Hanmer Springs
From Kaikoura, we actually recommend taking an inland detour to visit Hanmer Springs.  The drive from Kaikoura will take you around 2 hours, however the detour is well worth it. As the name suggests, Hanmer Springs is most famous for its hot springs. Nestled at the foot of the Southern Alps, there can be few more spectacular places in the world to take a soak in the natural hot pools. Hanmer Springs is also a great place for outdoor enthusiasts with some superb walking and biking trails located in and around the town. This place is a photographer's delight and everywhere you look, your photos will be framed by the towering and often snow-capped Southern Alps.
It's another 2 hours' drive to Christchurch and whether that's the start or end point of your journey, or simply a stop along the way, The Garden City is a great place to spend a few days exploring the magnificent gardens, walking along the peaceful and serene Avon River, or exploring nearby beaches in the summer months.
Getting around
For most people, the easiest way to explore our beautiful country is in a rental car or campervan. There are plenty of options when it comes to renting a car, however we love to support local and GO Rentals have been a staple of the rental car market in New Zealand for over 20 years. They have great options for car rental in Christchurch, hiring a car in Wellington or if you're coming from further afield, they also have branches in Dunedin and Queenstown in the South Island and Auckland in the north.
If you want to explore an alternative way of exploring this coastline, The Coastal Pacific Train is a great alternative. Running between Picton and Christchurch, it's a very popular way to explore the coastline if you're happy to be on someone else's schedule and just sit back and enjoy the ride. It takes around four and a half hours to make the trip, however you will obviously not have the luxury of being able to stop off along the way as you do on a self-drive tour.