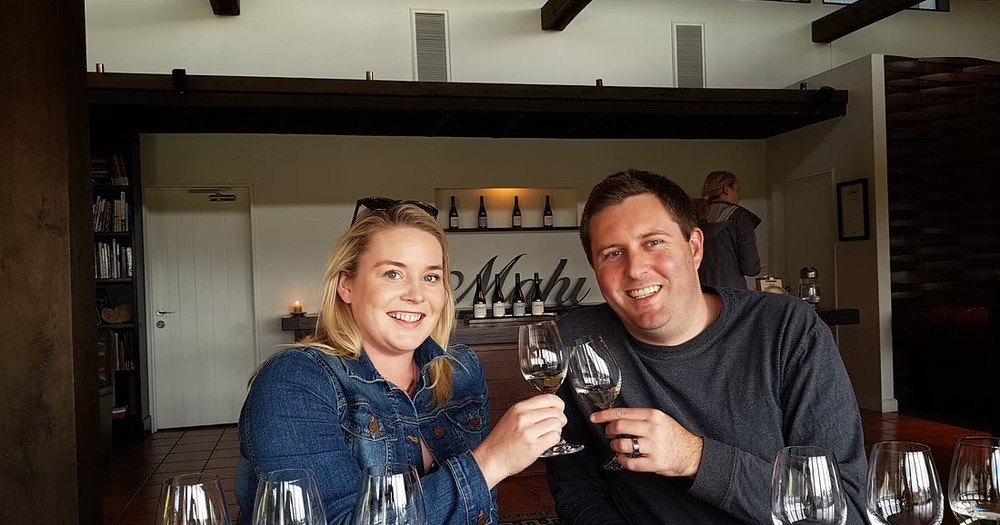 Are you keen to try a little wine tasting in Blenheim whilst visiting the Marlborough region? You can try Sauvignon Blanc, Pinot Noir, and many other varietals in this region. Why not let our local guides show you the best marlborough wines to taste while you are here.
To make it easy for you we have listed below our daily departure Blenheim Wine Tours. You can join us on these tours daily from your accommodation in Blenheim. Each tour caters for up to 10 passengers so you can book as a single, couple or group. You have the choice of a quick round of wineries for wine tasting, or you could join the longer tours to enjoy a relaxing winery lunch and wine tasting for the day.
On All our tours you will enjoy the company of one of our small team of experienced wine tour guides. They have a wealth of knowledge so don't be scared to ask lots of questions and they will share everything they know with you. There is a reason why we are known as the provider of the best wine tour in New Zealand.  Marlborough is the premier wine region in New Zealand so it is easy for us to arrange for you to have the best wine tastings Marlborough has to offer directly from your Blenheim Accommodation.
Check out our reivews on Trip Advisor or Google and you will see that our team have been doing a great job to a world class standard.
For more information on each tour click the book now button, we also offer other Specialty Marlborough Wine Tours which you can find here: Our Marlborough Wine Tasting Tours
Do check our FAQs page and you will see we have most of your queries covered. But of course you are also welcome to give us a call and we are sure we can help you with any queries. Frequently Asked Questions Page.
Taste the Valley –  A Half day tour form Blenheim including the lunch stop.
Discover Marlborough Wines – Afternoon half day tour
Beyond the Vines –  a Full day tour to immerse yourself and enjoy the best of Marlborough's wines
Ultimate Day Out – Enjoy a Catamaran Cruise on the Marlborugh sounds followed by a winery lunch and wine tour.
What Sets Marlborough Wine Tours Apart Regarding Private Wine Tasting

Having provided tours of the Marlborough wine region for over 20 years, our tour guides have learned a lot about the vineyards and wineries of the area. With that knowledge, they can help guide your private tour to the cellars you will find the most interesting and with the best wines for you to sample. Here are a few of the things that set our private tours apart:

 

Our private tours are a door to door service. We will pick you up from your accommodation in Picton or Blenheim and drop you off after the tour. With this, you can fully enjoy and partake in any wine tasting without having to worry about your drive back.
While we always let our customers set the pace, with a private tour, we customise it to your wine preference. Make sure to let us know beforehand so we can make sure to visit the wineries you will most enjoy.
All standard tasting fees for up to six cellars are included, and we can even provide a two-course lunch with wine. However, most guests prefer to have their lunch at one of the vineyards we visit during the day.
Benefits of a Private Wine Tour from Marlborough Wine Tours

All our tours offer a fun and informative exploration of the Marlborough area and its many wineries, but a private tour comes with a few extra benefits that make the trip exceptional. Some of them include:

The intimate nature of a private tour puts you and your guests in complete control of the day.
Transport for private tours is Mercedes E320 sedan or our Mercedes Valente. Both are well-appointed with air conditioning for your comfort.
We always like to accommodate special requests, and this is much easier on a private tour. Just let us know beforehand, and we will do what we can to ensure that we provide the tour you want.
Why Trust Marlborough Wine Tours Regarding Private Group Winery Tours

Our family-run business was one of the first to offer tours of the Marlborough wine region in 1999. Since that time, we have continued to grow with the area and keep up with all the exciting changes so that our customers get the best tour possible while sampling the world-renowned wines made here. Our tour guide's dedication to providing an entertaining and informative time is equally applicable to our private tours as our standard offerings. If you are interested in learning more about our private wine tours, contact us today.